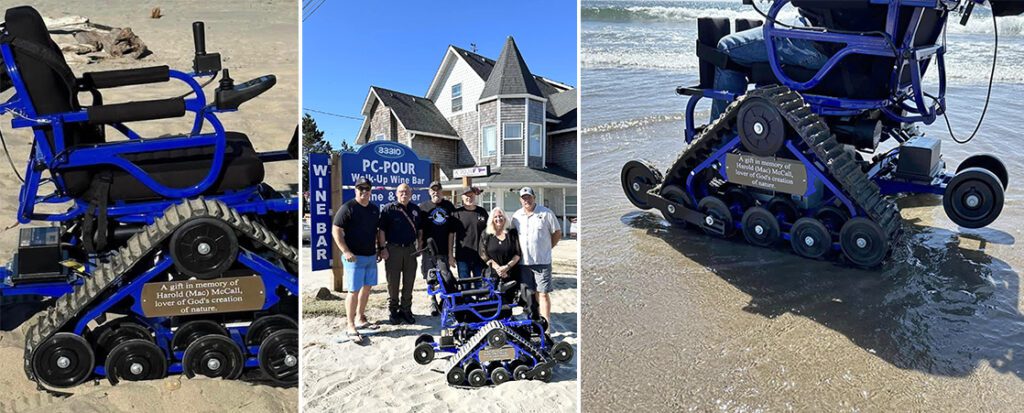 July 14, 2023 – Pacific City – Oregon Parks Forever and David's Chair is pleased to announce that a brand-new, all-terrain Track chair was dedicated at Dory Days, and is available in Pacific City, near Cape Kiwanda, for free to those with mobility issues. The chair was donated in honor of Harold "Mac" McCall. When making this donation, his family recalls:
"Harold "Mac" McCall was raised in the country on a farm, loved the outdoors, gardening, hiking, traveling, and learning. He was a veteran of WWII, was a hard worker and a member of Toastmasters for over 60 years. He personally built all three homes his family lived in throughout the years, each one bigger and better than the last.

"Harold was diagnosed with Alzheimers in 2008.  That summer he traveled with his daughter and son-in-law on a cross country trip from Ohio across the northern USA and down the Pacific Coast. He saw many incredible sights, but his favorite was Cape Kiwanda at Pacific City. At the age of 82, he climbed the steep, sandy hill to the top of the cliffs and wandered around on his own.  He called his daughter from the top and exclaimed, 'You must see this view! I can see for miles.'"

"He was facing a debilitating illness that would take his memory, his ability to talk and eventually his life. He couldn't swallow at the end of his life, and he faded away until he was too weak to walk. He could no longer go on hikes or enjoy the woods because his wheelchair wouldn't go there.  Donating an all-terrain chair in his memory is an opportunity to give others the chance to enjoy Harold's beloved outdoors despite physical challenges."
Now, with many thanks to the McCall family, anyone with a mobility impairment, requiring the assistance of wheelchairs, scooters, walkers, canes or crutches, will be able to use this chair at no cost.
Reservations for free use can be made at: www.davidschair.org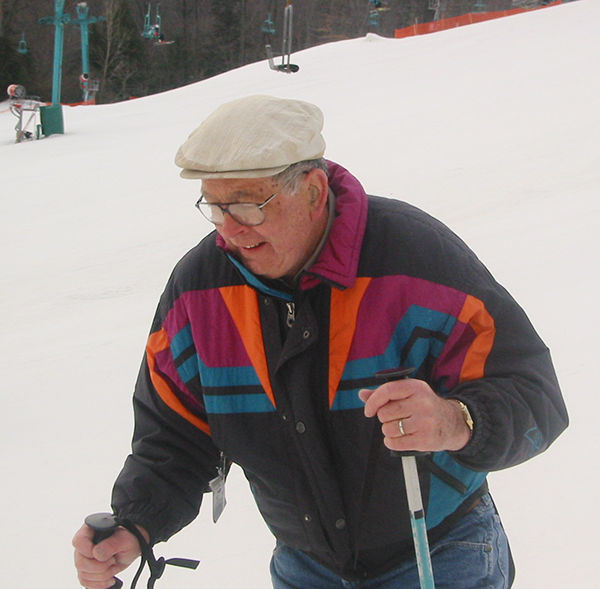 Mac McCall on the slopes