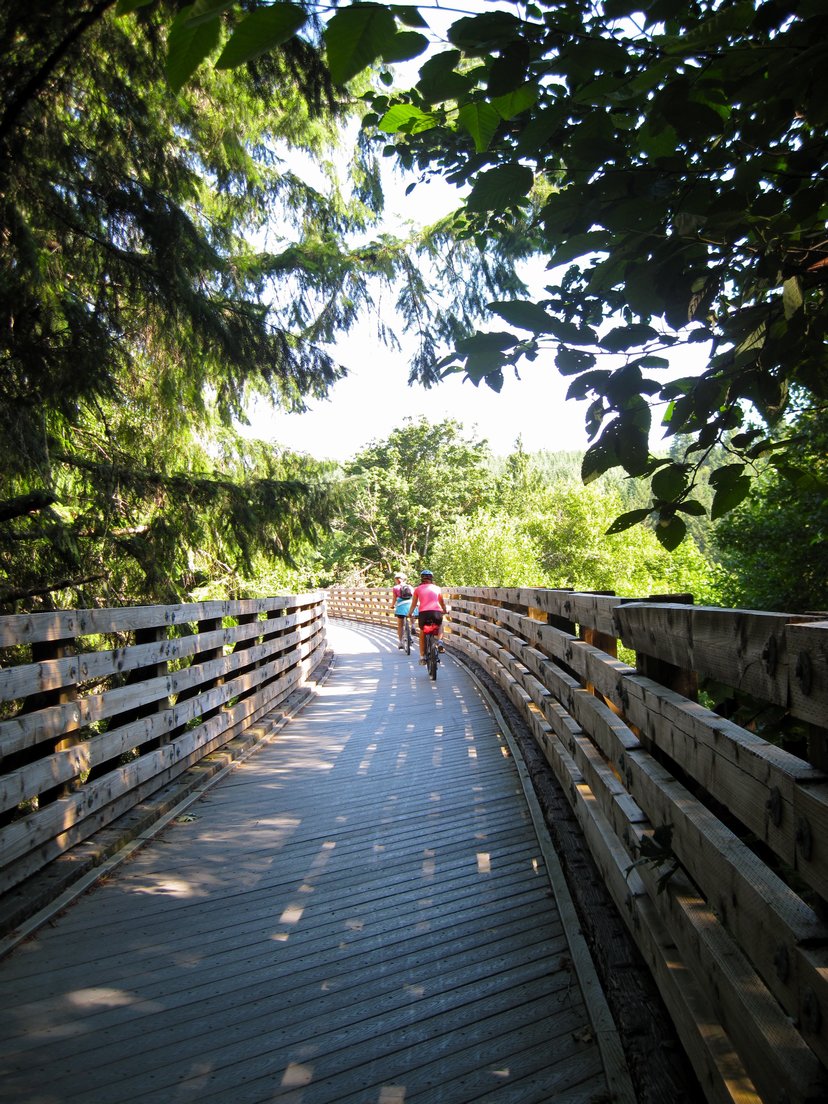 Matching Gifts & Workplace Giving
Does your employer offer matching gifts, allowing you to double your contribution? Many companies provide this employee benefit and some even extend it to spouses and retirees. To find out, search for your employer below and check in with them on how to get it set up. By simply completing a matching gift form, you may be able to double or even triple the impact of your gift! Contributions of any amount help enhance the experience in Oregon's beloved parks.
Additional Donations
Your contribution, of any amount, to Oregon Parks Forever makes a difference in preserving the natural, historic and cultural wonders in Oregon's Parks. From the austere grandeur of Wallowa Lake, to the iconic landscape of the Oregon coast, your gift to Oregon Parks Forever will help now and for generations to come.
Make a Donation Online by visiting our secure donation page.
Make a Donation by Mail by downloading our OPF Donation Form and popping it in the mail.
Make a Donation by Phone by calling us at 503-966-1163. We can accept your credit card donation, thank you in person, and answer any questions you might have.
Additional Ways
Gifts of Stock: Make a donation of appreciated securities and you may receive an immediate tax deduction and savings on capital gains taxes. Download this PDF stock contribution form. Contact us for more information.
Donating Property to the Oregon Parks Forever: If you have land you would like to donate, please contact us! More than one-third of Oregon's state parklands were donated by individuals, families and businesses. Oregon Parks Forever accepts two types of real estate gifts: (1) lands that you would like permanently protected as a park or (2) lands that you will permit us to sell, with the proceeds going to support our important work.
For More Information
For more information about these and other ways you can leave a lasting legacy for Oregon's parks, please contact our Executive Director, at 503-966-1283 or seth@orparksforever.org.
AmazonSmile
AmazonSmile is a simple and automatic way for you to support Oregon Parks Forever every time you shop using AmazonSmile, at no cost to you. Once you've chosen Oregon Parks Forever as your designated charity, AmazonSmile Foundation will donate 0.5% of the purchase price from your eligible AmazonSmile purchases to Oregon Parks Forever.
Fred Meyer Rewards
Fred Meyer Community Rewards is an easy way for Oregon Parks Forever to receive donations from Fred Meyer Stores. Customers earn these donations for Oregon Parks Forever by shopping with their Rewards Card. Fred Meyer will donate over $2 million to nonprofits in Alaska, Idaho, Oregon and Washington every year through this program. Here's how it works:
Link your Rewards Card to Oregon Parks Forever, just log in to your online account.
Whenever you use your Rewards Card when shopping at Freddy's, you'll be helping Oregon Parks Forever earn a donation from Fred Meyer.
At the end of each quarter, Fred Meyer will make a donation to Oregon Parks Forever based on the accumulated spending of the Rewards Customers linked to Oregon Parks Forever.
Fred Meyer will donate over $500k each quarter via Community Rewards!

In-Kind Donations
A creative way to give to Oregon Parks Forever is through in-kind donations! Whether you have office supplies you don't need or you're a business owner who is willing to donate goods or services, non-monetary donations are a worthwhile tax-deductible way to give. Please call us at 503-966-1283 or email administrator@orparksforever.org.
For Businesses
If you are a business owner or representative, we would love to work with you! Your business' tax-deductible in-kind donation will benefit Oregon's parks and be publicly acknowledged. Please contact us for more information.
We can use:
Market Research
Public Relations
Co-op Advertising
Event Catering
Printing
Graphic services
Premiums for Memberships
Office Supplies
Volunteer
Oregon Parks Forever welcomes volunteer assistance in a variety of areas. If you are interested in volunteering your services, please email us at administrator@orparksforever.org
We appreciate your interest in assisting with our mission and encourage you to sign up for email news below, or contact us for more information.
Help Mobility Challenged Guests
Volunteers are needed in parks in Southwestern Oregon (Tou Velle, Bullards Beach, Harris Beach, Collier and Joseph Stewart State Parks) to greet guests who have reserved electric all-terrain wheelchairs, to check the equipment out and in, and to show the guest how to operate the chairs. If you are available, please contact our partner in Medford, David's Chair.
Join a SOLVE Beach Cleanup
Every spring, nonprofit partner SOLVE coordinates cleanups at Oregon Coast beaches which are under the responsibility of the Oregon Parks & Recreation Department. Learn more by clicking here.
Help State Park Friends Groups
To find a friends group at a park near you, visit the Oregon State Parks website Friends Group Page.
Corporate Giving
Corporate partnerships allow us to continue increasing environmental education, access, and healthy activities in Oregon's parks.
Show your corporation's support for Oregon's parks by partnering with Oregon Parks Forever.
We welcome corporate partnerships that share our dedication to increasing environmental education, access, and healthy activities in Oregon's parks. Donations are tax deductible and we ensure that our corporate donors are publicly thanked. Depending on your level of giving we can offer the following:
Inclusion of your company name or logo on print materials
A news item posted to our website about your donation
Banners with your company name or logo at our events
Corporate donations can be restricted to particular programs or projects, or can help us with our overall management and promotion of the our work.
Your partnership with Oregon Parks Forever will support the Oregon community by enhancing and preserving special places and experiences in Oregon's parks for generations to come.