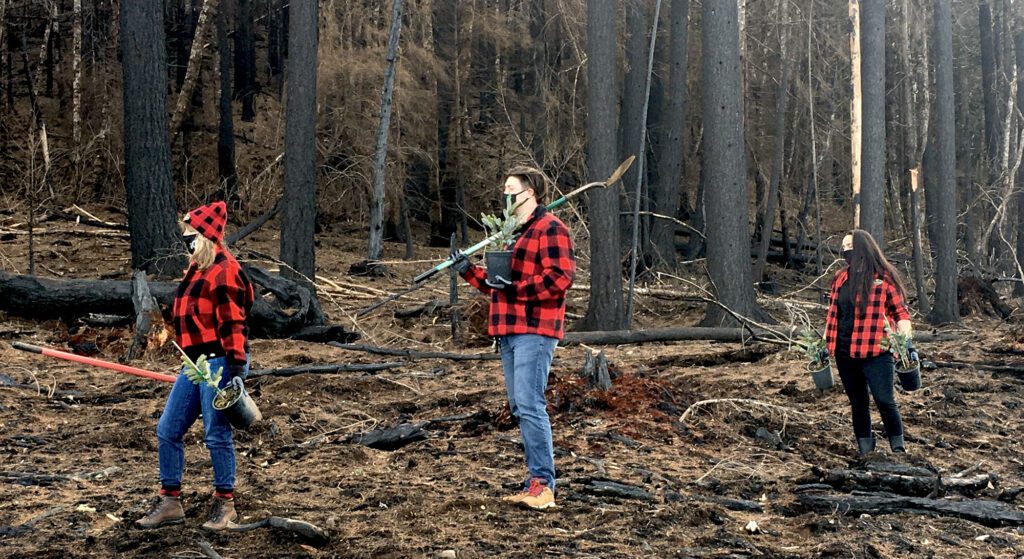 Oregon Parks Forever is pleased to announce, that in early January 2023, it made a grant for an additional 250,000 trees to be planted in Marion County for reforestation after the wildfires. Bear Creek Park and Campground, Minto Park, Niagara, North Fork, North Santiam, Packsaddle, and Salmon Falls parks will see the green results this season. Currently, the areas to be replanted are being cleared of invasives and noxious weeds, damaged trees, and the soil is being prepped for planting. Thomas Kissinger, Parks Program Supervisor, at Marion County Public Works, thanks Oregon Parks Forever and notes that there will be opportunities for volunteers to plant later this spring,
"Marion County Parks is grateful for this generous donation to our efforts restoring the natural environments in our wild-fire damaged parks," said Thomas Kissinger, Parks Program Supervisor at Marion County. "This will help future generations enjoy the area that so many people cherish, and we look forward to bringing the community together for planting events this spring."
In 2021, Oregon Parks Forever established the Wildfire Tree Replanting Fund. The goal of the fund is to restore one million trees. Each dollar donated plants a tree. To date, we have increased our support for replanting to 803,685 trees across the state at Collier State Park, Silver Falls State Park, the Ben & Kay Dorris State Recreation Area, North Santiam State Park, Cedar Butte, and in the Tillamook Forest, as well as parks in Josephine and Marion Counties.
Planting plans and schedules consider the future and the past: climate change projections determine some tree choices, as well as historic native species. Restoration work will continue for several years, and the forest itself will evolve as it recovers from fire. OPRD worked closely with the Klamath Tribes to select plants with ecological and cultural value, including Douglas fir, western larch, quaking aspen, red osier, dogwood, and willow. Research reveals that prior to Oregon timber farming, some regions were oak woodlands that respond well to long-term drought conditions. Oaks are located at the transition between ponderosa pine or mixed conifer forests in the mountains.
Since the 1990's, Oregon has seen significant increases in the number of acres damaged by fire. 2020 saw the second largest number of acres burned, with more than one million acres of trees damaged on Oregon lands. 2021 followed with a similarly devastating fire year, as well as a heat dome event that killed many trees in the Coast Range. As reported in September, so far this year we've seen fires totaling 549,093 acres. Researchers note that Oregon saw more days per year with temperatures topping 90 degrees and more nights per year warmer than 65 degrees between 2011 and 2020 than between 1951 and 2010. Experts warn that climate change effects on Oregon could impact the state's economics, particularly farming and timber economies as the availability of water and irrigation change over the years.
Oregon Parks Forever anticipates the ramifications of climate change to continue into the future and is ready to help. The goal is to work with the state and counties to help public lands get restored and improved as soon as possible. Our mission is ongoing: A Million Trees and more.
We would like to thank the 2,400 individual donors who have supported this effort, along with the following corporate, foundation, and group donors: