Giving Tuesday New Member Special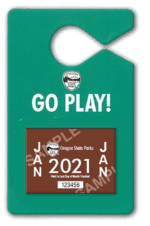 TODAY ONLY, we're offering a special gift to our first 200 new members! When you become a new member today by making a $50 donation or more to Oregon Parks Forever, we will send you a one-year Oregon State Parks day-use parking permit as our way of saying thank you and welcome! Members join a community committed to enhancing and preserving special places and experiences in Oregon's parks now and for future generations.
Please note, if you contribute $75 or more, you will also receive an annual subscription to 1859 Oregon's Magazine. If you prefer no thank you gifts, you may simply opt-out on the last payment screen.
As a member of Oregon Parks Forever, your gift supports projects and programs in Oregon parks that:
Protect facilities, amenities and trails that have already been built;
Promote healthy activities like hiking, camping, and cycling;
Increase environmental education opportunities;
Ensure Oregon's parks are accessible to youth in under-served communities.