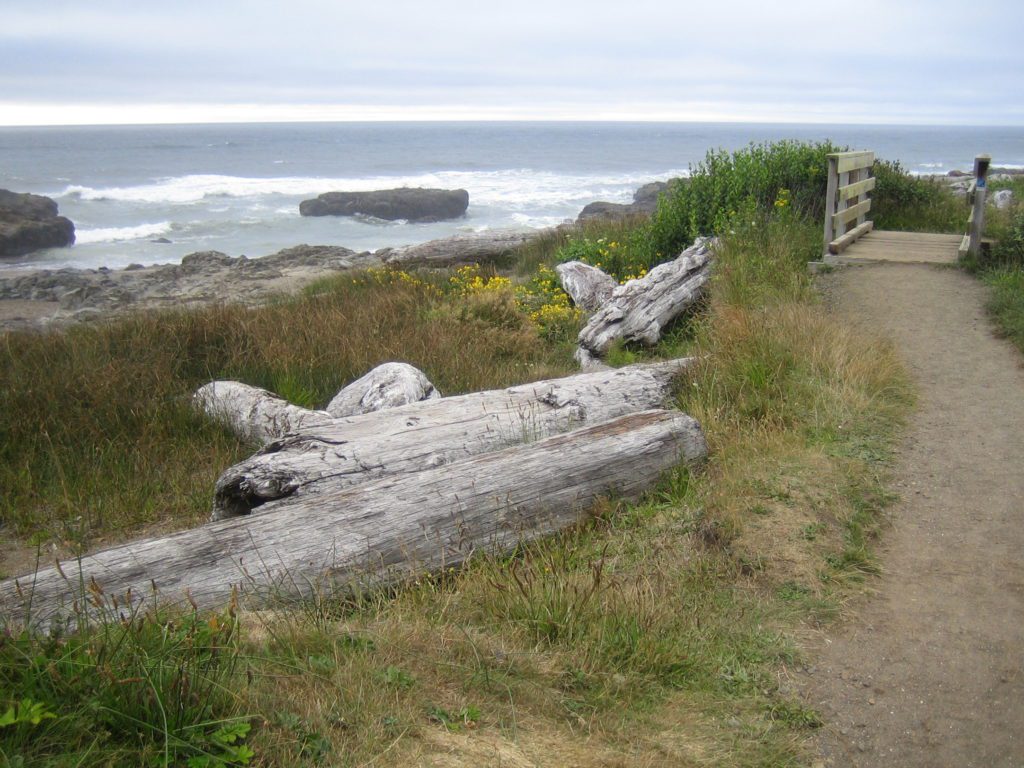 The Smelt Sands at Yachats is a small scenic viewpoint notable for its sunset views and whale-watching opportunities. The beach here is rocky, more than sandy, and caution should be taken here at all times if you venture out to the shore for fishing or tidepool viewing. The surf can be quite spectacular and make for excellent photos. This small park on the coast offers big opportunities in outdoor recreation, from tidepooling, to surf fishing, whale watching, and hiking.
The Yachats 804 trail intersects Smelt Sands State Park and continues north for just over a mile. This short beachside trail is largely wheelchair-accessible and offer excellent views. The 804 trail is a part of the Oregon Coast Trail, and was improved through funding from Oregon Parks Forever in 2013.
Also from Smelt Sands, Ya'Xaik Trail-Gerdemann Preserve Loop Hike will take hikers into the town of Yachats and through the Sitka Spruce forest of the Gerdemann Botanic Preserve. This 2-mile trail is a recent construction, in cooperation with the Siuslaw National Forest.
Nearby beachside camping is available at Tillicum Beach Campground and Beachside State Park. Tillicum is a 60-site RV and tent park 3.5 miles north of Smelt Sands managed by the Siuslaw National Forest. Beachside State Recreation Site, 4 miles to the north, offers a total of 74 camping sites (32 with electrical), and two yurts, plus a hiker/biker camp. Both campgrounds can be reached by hikers via the Oregon Coast Trail.