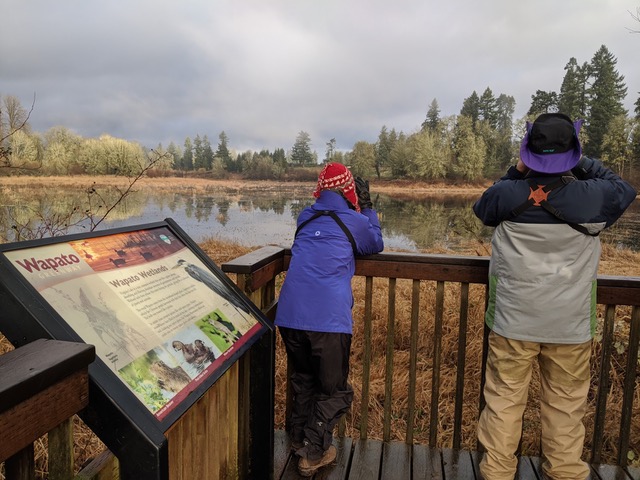 Lots of wildlife. Lots of visitors. Lots of invasive blackberry thickets. Not enough love.
Wapato Access Greenway State Park on Sauvie Island, just north of Portland, ranks number one for wildlife habitat among Oregon State Park's natural areas in the Willamette Valley. With an extensive wetland, frontage along the Multnomah Channel, an oak upland, and ash and cottonwood bottomland forest – this park has a variety of habitats that attract many species of birds and mammals. You may even find a Western painted turtle or garter snake sunning itself alongside the trail!
Popular with birders, anglers, dog walkers, and hikers this natural area offers a wide loop trail that is ideal for social distancing. It has more open areas and sunshine than many trails in the Portland area.
A dedicated group of volunteers who call themselves the Wapato Weed Warriors have pitched in to give this park the love it deserves. The crew, who mostly live within a few miles of the park, have volunteered for over four years to remove blackberries, ivy, holly, garlic mustard, and other invasive plants. They have worked miracles in many areas along the trail, however, large thickets of dense blackberry vines remain, daunting the volunteers. That's where a different approach to eradicate these pesky plants was needed.
A few months ago, Wapato Weed Warriors' leader Jane Hartline reached out to our organization asking for our help in soliciting, gathering, and processing donations so a contractor could be hired to mow the invasive blackberry vines encroaching the trail. We were happy to help!
Recently, enough funds were raised to hire Mike Herrick, owner of Aquatic Contracting and resident of Sauvie Island. We are grateful for his generosity — as he only charged half of his normal rate to mow back the blackberry plants.
This is the first step in a multi-year plan to eradicate the blackberries and follow-up stewardship will be critical. The group is committed to maintain blackberry re-growth and to replant areas where the blackberry plants were removed in partnership with Oregon State Parks staff.
If you would like to make a donation to continue these ongoing stewardship efforts at the Wapato Access Greenway State Park, please click here. Money raised will fund the removal of blackberries in other areas of the park and to purchase vegetation to be planted in its place.