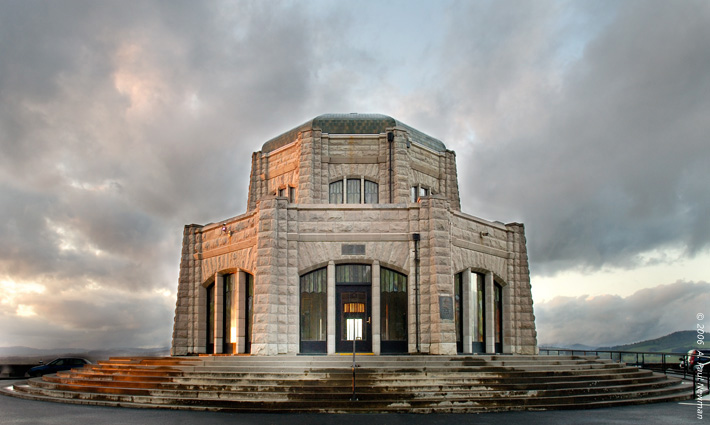 Most Oregonians who have visited the Columbia Gorge are familiar with the Vista House at Crown Point State Scenic Corridor. The domed sandstone building sits prominently above the river along the Historic Columbia River Highway. It was constructed atop Crown Point Promontory as a place for Columbia Gorge tourists to take in the views and enjoy a rest before continuing their travels. The architect, Edgar M. Lazarus, designed the structure as "a temple to the natural beauty of the gorge". Construction started in 1916 and the building was opened in 1918. The elegant building features Alaskan marble floors, stained glass windows, Kasota limestone for the rotunda, and green glazed tiles on the roof.
A large restoration was undertaken from 2001 to 2006 to address needed repairs and bring the building up to current ADA standards. The massive fundraising effort helped ensure that the Vista House will continue to welcome visitors to the Columbia River Gorge for years to come. Oregon Parks Forever partnered with the Friends of Vista House to raise more than 2 million dollars to fund restoration of the interior.
After being closed to the public for nearly two years because of the Covid pandemic, Vista House is once again welcoming visitors through its doors, and in the café and gift shop. The Friends of Vista House will now need volunteers and have trainings coming up soon for those interested. Please contact the Interpretive and Volunteer Coordinator at volunteer@vistahouse.com for more information.