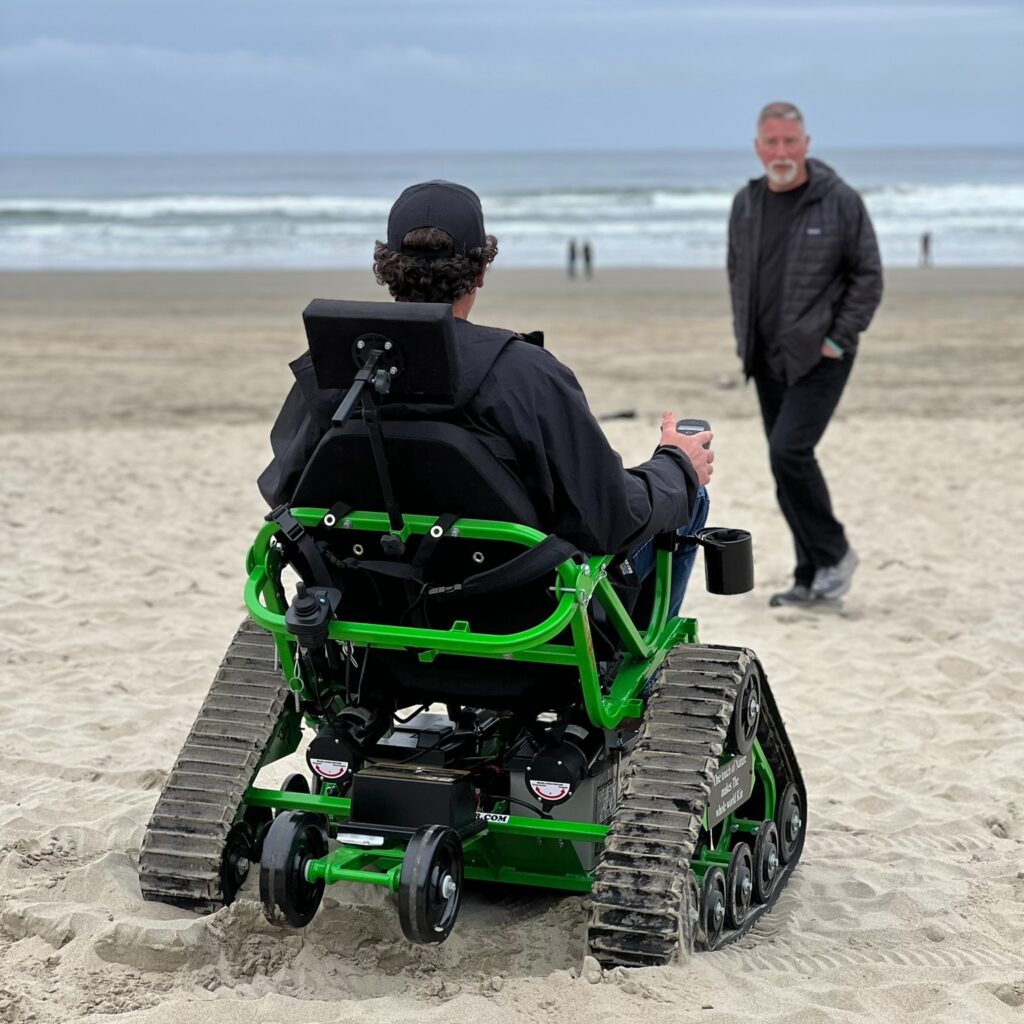 November 3, 2023 Florence, Oregon – David's Chair Outdoor Mobility Systems (David's Chair) has added another location for one of their all-terrain electric Track Chairs to be used for free. The city of Florence in Lane County Oregon has now become the new home and the seventh location where a Track Chair provided by David's Chair will be permanently stationed. The chair can be reserved now at davidschair.org and accessed and used at Heceta Beach County Park at 88466 1st Ave. in Florence.
CEO and Founder Steve Furst said, "We have been working for several months to make this happen. We are excited to continue to work with the Florence community and wonderful volunteers that are helping facilitate the use of this track chair." Initially the all-terrain track chair will be available three days a week with hopes of expanding the use in the spring. "I am so proud of the work that Jeff Kallevig (Operations Manager for NW Oregon) has been able to do. He has taken on this project and coordinated with the volunteers and is working with the City of Florence, Lane County and other local organizations to provide support for this location", said Steve Furst. "We also want to thank the Driftwood Shores Resort for providing a place on the edge of their property near the beach access trail to store our track chair."
David's Chair and Oregon Parks Forever have partnered to provide this new way to get out on the beach and into nature for people with mobility challenges. The two non-profits have set a goal of having 10 locations along and near the Oregon Coast where mobility challenged visitors can pick up and use an electric all-terrain Track Chair at no charge.
Anyone with mobility impairments, requiring the assistance of wheelchairs, scooters, walkers, canes or crutches, will be able to use these chairs free of charge.
These chairs provide a new freedom for a mobility challenged park visitor – to get off the pavement and out into nature.
With increased accessibility to trails, lakes, rivers and beaches, through demanding conditions like sand, snow and mud, mobility-impaired visitors will be able to participate in activities never-before possible.
From birdwatching and fishing, to riding along the beach, to simply enjoying the fresh air and solitude of nature, these all-terrain chairs will invite many new people to share the wonders of the great outdoors in our parks.
See these chairs in action at: https://davidschair.org/video-gallery/
Track Chairs are also currently available for free use at Tigard, Seaside, Manzanita, Pacific City, Netarts, Gold Beach and White City. Newport Oregon should be up and running within a couple of weeks.
Two locations (Tigard and White City) also allow guests to pick up a trailer and chair and take it to their location of choice. Linn County's location will also offer this "Tow and Go" opportunity.
Reservations for free use must be made at least three days in advance at: https://davidschair.org.