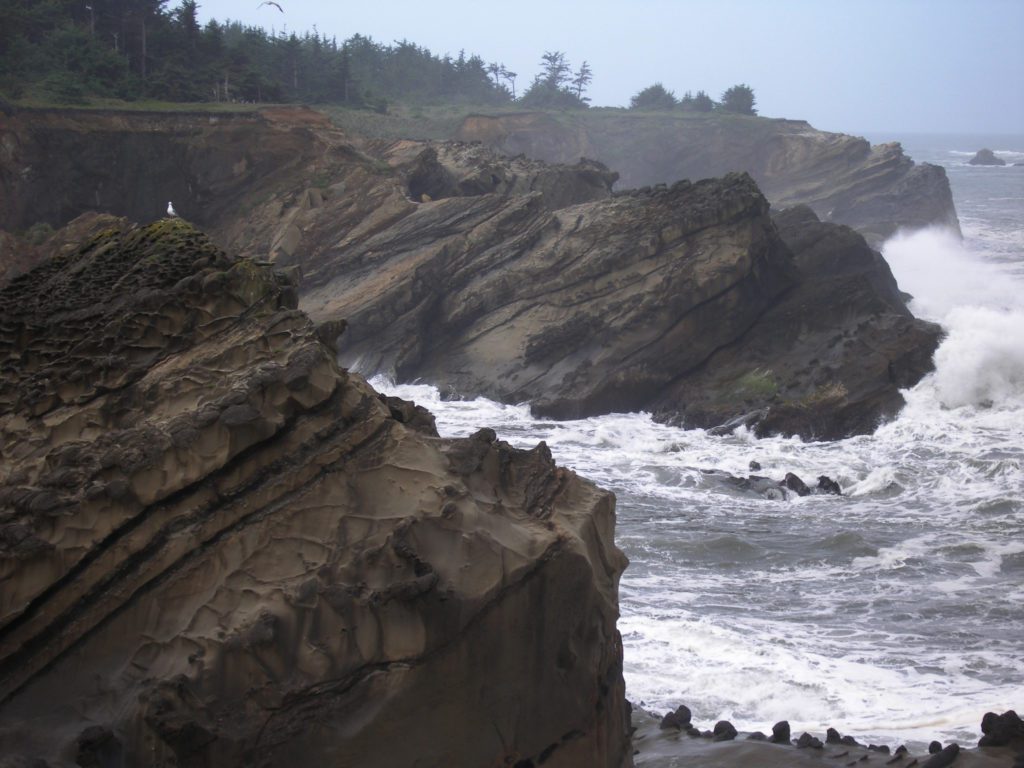 A volcanic eruption in Tonga last month resulted in a tsunami warning for the Oregon Coast, and a reminder to us all that the Ocean can be a dangerous place. It is this danger that is essential to its beauty, as millions of years of storms have carved out cliffs from the volcanic rocks, created tidepools, and ground stone into the fine sand, piled into dunes reaching miles inland.
Storm watching on the Oregon Coast is an opportunity to see the power of the ocean at work. Some of the most iconic images of the Oregon Coast today are of ocean sprays produced as the water connects with the rocks in places like Shore Acres, Devil's Churn, and Tillamook Head.
Now is the time if you are hoping to "catch some waves" on the Oregon Coast. If you have a good raincoat and are looking for some spectacular views, you might just time it right by visiting the coast before the storm season ends in March.
Safety Tips
Be prepared for the season with gear like hats and raincoats – and if you will be hiking, wear good, sturdy, and preferably waterproof, shoes.
Do not turn your back on the ocean! Sneaker waves are real, and really dangerous. Even if you think you are a safe distance away, keep an eye on the water at all times.
 Stay off the rocks – In addition to the rocks being habitat for ocean inhabitants such as crabs, anemones, and sea stars, the rocks can be slippery, and it is an especially dangerous place to be when the waves come crashing.
Where to go
Popular storm-watching spots can be found all along the coast, with some areas having paved paths suitable for wheelchairs, and many that have viewing areas with railings. Here are a few of the more popular spots.
See the wave action from an accessible viewing platform at this park. It is just a short walk from the center of town and two blocks from the highway.
There is a reason that Shore Acres near Coos Bay is among Oregonian's favorite State Park. In addition to the beautiful gardens and beach area, the cliffs make for a perfect vantage point for storm-watching.
Just south of Shore Acres is another park with a viewing area that is ideal for watching the storms roll in.
Cape Foulweather / Otter Crest State Scenic Viewpoint
Just south of Depoe Bay, you can catch panoramic views from this park 500 feet above the ocean. Cape Foulweather is a great storm-watching spot, and whale watching location, too. Look to the south, and you can see Devil's Punchbowl.
Many areas in and around Cape Perpetua Scenic area are great storm-watching spots, including Thor's Well, Devil's Churn, and Spouting Horn. Starting at te Devil's Churn visitor's center, an easy 1-mile trail allow you to see all three, and then check out tidepools when the storm subsides.
At the south end of Tillamook Head, is another popular location. However the park is currently closed due to a sinkhole on the entrance road. Access from the Tillamook Head Trail is still possible, but is usually very muddy this time of year.