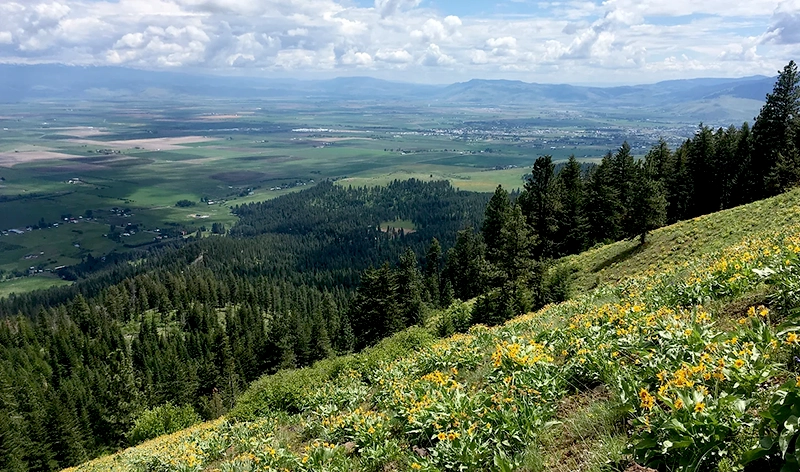 Midway between Pendleton and Baker City, in the Grande Ronde Valley, the town of La Grande is nestled between the majestic Blue and Wallowa Mountain ranges. This college town is well worth a stop, as it hosts vibrant food, art, and outdoors scenes. As well as being home to an amazing natural area with something for all types of recreationists and nature lovers.
Plan a visit to the Mount Emily Recreation Area (MERA) which offers 3,669 acres of outstanding forest recreation, just two miles from downtown La Grande, Oregon, and there is so much to offer, you may want to stay longer.
MERA is open all year for hiking, trail running, mountain biking, and equestrian use. Wildflowers are typically in full bloom from April to June. Deer, elk, black bears, and many species of birds and other wildlife inhabit MERA year-round. You may even spot cattle grazing peacefully on the land.
In separate areas of the park, there are 45-miles of non-motorized trails perfect for hiking in nature and in another part, you'll find 45-miles of trails that allow motorized vehicles. MERA is also home to 31 miles of mountain bike trails. If you are looking to limit your interactions with bikers and hikers, then access the Lower Igo Trailhead. Generally, trails are snow-free from March through November. In the winter months, backcountry skiing and snowshoeing is popular in the mid-to-high elevations.
There is a corridor providing limited motorized access through the eastern half of MERA. This corridor and trails, east of the rim, are seasonally closed from October 1 to March 31, to motorized use. This area is the winter range for a large herd of elk native to the valley.
With nearly 12 miles of single track, non-motorized trails, mountain cyclists, trail runners, hikers, and equestrians enjoy challenging terrain. Another 12 miles of double track trails, which are typically unimproved roads that are closed to motorized travel, are also available. Equestrian cross-country travel is permitted.
MERA has historically been utilized for its cattle grazing opportunities and this practice continues today. The grazing season is from June 1 through October 15.
The Mt Emily Recreation Coalition, a group of motorized and non-motorized users, took the lead role in working with Union County to find funding to purchase the Mt Emily Recreation Area in 2009. MERA includes almost 4,000 acres of timber and rangeland, as well as more than 45 miles of non-motorized single-track trails, and twice this many miles of motorized trails. The Blue Mtn Single-track Trails Club, working in conjunction with Union County Parks Dept., has built almost all the single-track non-motorized trails on MERA. Enjoy these public lands!
The management of the forest is guided by the MERA Forest Management Plan 2012, as prepared by the Blue Mountain Chapter Oregon Society of American Foresters. Improving and maintaining forest health is important for all the resource uses planned for this property. The focus of this plan is on the growth and harvest of trees. The intent of natural resource management on MERA is to improve and enhance the health and dynamics of the plant and wildlife communities throughout.
MERA was established by Union County in 2008 with a combination of grants from the Oregon State Parks and Recreation Department ATV Grant Program and the Blue Mountain Habitat Restoration Grant Program for its natural resource and recreational opportunities. MERA is managed by the Union County Parks Department with input from the MERA Advisory Committee and the efforts of community partners, supporters, and volunteers.
Photo: Eric Valentine