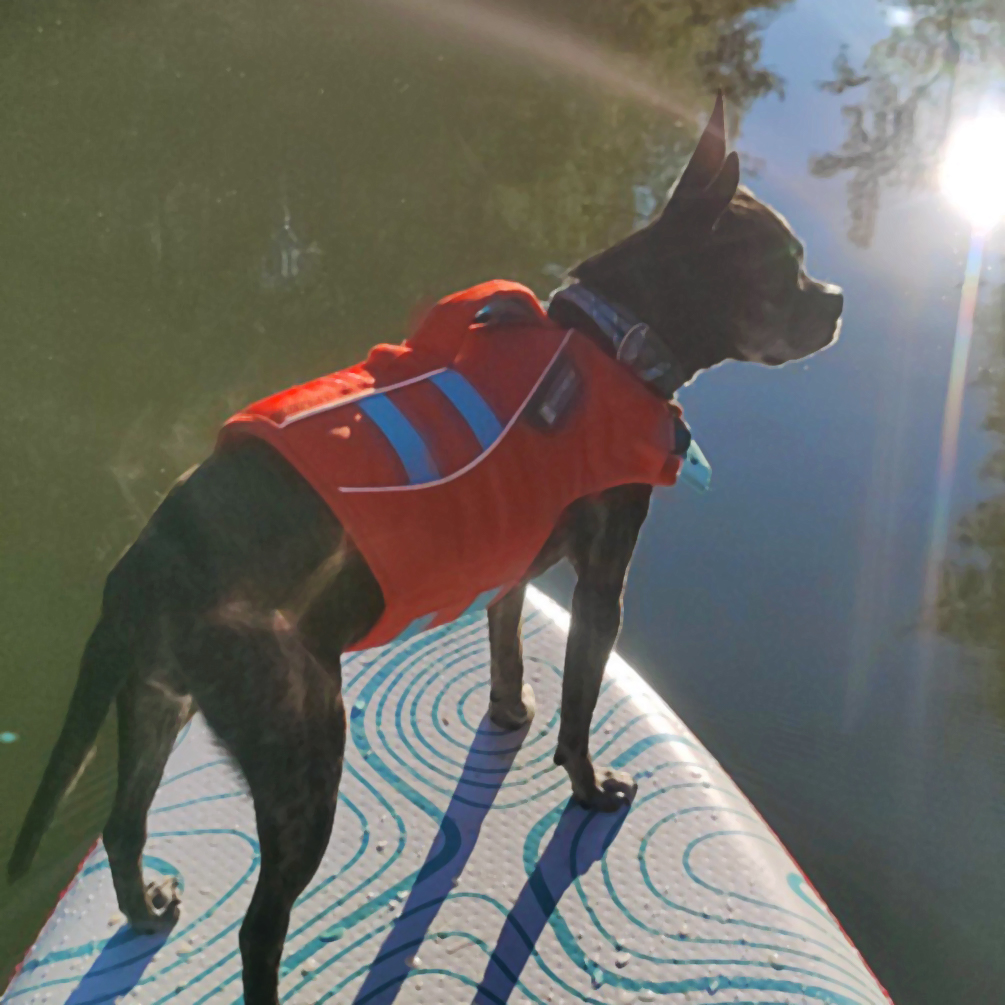 The Stand-Up Paddle (SUP) Board has gained in popularity recently, with more and more people enjoying this inexpensive and low-tech sport at local lakes and rivers. If you have been out to any body of water recently, you might have seen people standing or sitting on what look like wide surfboards as they glide along the water. SUP boards are either solid, with a foam core, or inflatable. Inflatable boards are easier to store and transport, and a rigid board is more stable and offers better performance on the water.
Stand-up paddleboarding is a bit more of a full-body workout than canoeing and kayaking and does require some balance. You can also sit down if you want a more relaxing paddle or need to give your core muscles a break.
It is easy to try out paddleboarding because you don't need a lot of gear, and there are plenty of places to go and rent one by the hour, or for the day.
The gear: You will want a life vest or other personal floatation device, a whistle, and a paddle (most rentals will come with the paddle, and a life vest may also be available). A tether can be useful if you fall off your board, as is a dry sack. You can use water shoes if you prefer not to go barefoot. And as with all watersports, sun protection, in the form of sunscreen, a hat, and/or sunglasses, is a must.
The basics of getting up on the board and staying balanced are not hard to learn. There's a good tutorial on the REI advice website and there are some good youtube videos as well.
If you're ready to head out to the water, there are paddleboards for rent at the marinas of many popular lake recreation sites throughout Oregon. Here are a few places we know about.
Cove Palisades: The marina rents paddle boards on a first-come, first-served basis. Fees start at $35 for 2 hours and go up to $75 for 8 hours.
Lake Owyhee: This remote lake in Eastern Oregon has onsite rentals available through Ontario Board Shack, and they also provide tours and lessons. You can reserve ahead of time on their website and a 1-hour rental is just $15.
Suttle Lake: Suttle Lake along Highway 20 in the Deschutes National Forest has been a recreation spot for Oregonians since the 1920s. The modern, but rustic Suttle Lodge offers a place to stay, and also rentals from their boathouse. SUP boards start at $30 for a one-hour rental and go up to $85 for the whole day.
Fern Ridge Reservoir: Near Eugene, Underway LLC offers paddleboards at the Orchard Point Marina. Rates are $30 for a full day and include a life jacket, board, and paddle.
Hagg Lake: Near Forest Grove, this popular recreation spot has SUP boards for rent at the marina from Scoggins Valley Outfitters. Rentals start at $34 for 2 hours, to $62 for the day, and are first-come, first served.
Mt Hood Area: Mt Hood Outfitters offers SUP boards at Trillium Lake (daily) and Timothy Lake (weekends) for first-come, first-serve rentals. Rates start at $20 for an hour mid-week, and go up to $250 for a full day on a weekend. On Timothy Lake, motorized boats are restricted to 10 mph.
North Fork Reservoir: Near Estacada, the Promontory Resort Marina has SUP boards available; 1 hour goes for $35 and two hours is $50. The nearby Promontory Park campground operated by PGE is a quaint, vintage campground with cabins and sites for tents and small trailers.